Location
The school takes place at Hotel Sjögården in the small fishing village Ellös, on the island Orust on the Swedish west coast, about 80 km north of Göteborg.

The hotel is beautifully situated by the sea, with a variety of opportunities for outdoor activities. Wednesday afternoon we will make a trip through the nearby archipelago on the fishing boat Mary Josefina.

Swedish summer is at its best in June, when the sun is always up except for a few of hours around midnight.

Since the hotel is quite small, possibilities to bring family to the school are unfortunately limited.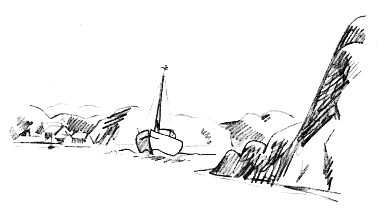 Travel
Most participants will probably find it most convenient to go by air, train or ferry to Göteborg, which has direct flights from most major European cities, and ferries from Denmark, Germany and England.

From Göteborg, the summer school has its own bus to Ellös. The bus departs from Drottningtorget, Göteborg, at 16:00 on Sunday, June 13. Drottningtorget is next to the Central Station (there are also regular buses from Landvetter airport to Drottningtorget). The precise location where our bus will wait for you is outside "Posthuset", which is the large building directly to your left, just across the street, when you exit from the main enterance of the Central Station.

Our bus takes us back from Ellös to Göteborg (Drottningtorget) at 13:15 on Saturday, June 19.

For participants who for some reason cannot use our bus, see our list of regular buses.
---
Last modified: Wed Jun 30 15:35:31 MET DST 1999