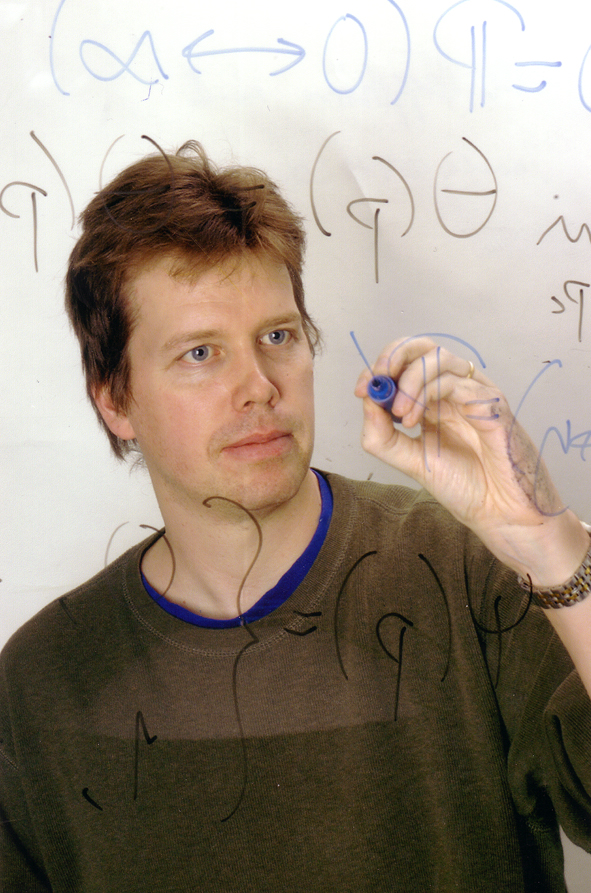 Photo by Jan-Olof Yxell. (If you
don't like my looks, click here
to view a picture of movie star
Russell Crowe instead.)
Olle Häggström
Professor
Mathematical Statistics
Chalmers University of Technology
S-412 96 GÖTEBORG
SWEDEN
Phone: +46 31 772 5311 (office)
Email: olleh@chalmers.se

My CV

Click here to access my official (but rather less informative) Chalmers homepage.


---
Announcements
Ph.D. course on Markov random fields, March-May, 2014.

As of July 1, 2011, I serve as head of the Mathematical Statistics division at the Department of Mathematical Sciences, Chalmers and the University of Gothenburg.

Selected Works of Oded Schramm, eds I. Benjamini and O. Häggström, Springer 2011.

This volume is dedicated to the memory of the late Oded Schramm (1961-2008), distinguished mathematician. Throughout his career, Schramm made profound and beautiful contributions to mathematics that will have a lasting influence.
In these two volumes, Editors Itai Benjamini and Olle Häggström have collected some of his papers, supplemented with three survey papers by Steffen Rohde, Häggström and Cristophe Garban that further elucidate his work. The papers within are a representative collection that shows the breadth, depth, enthusiasm and clarity of his work, with sections on Geometry, Noise Sensitivity, Random Walks and Graph Limits, Percolation, and finally Schramm-Loewner Evolution. An introduction by the Editors and a comprehensive bibliography of Schramm's publications complete the volume. The book will be of especial interest to researchers in probability and geometry, and in the history of these subjects.

Besök min blogg!
---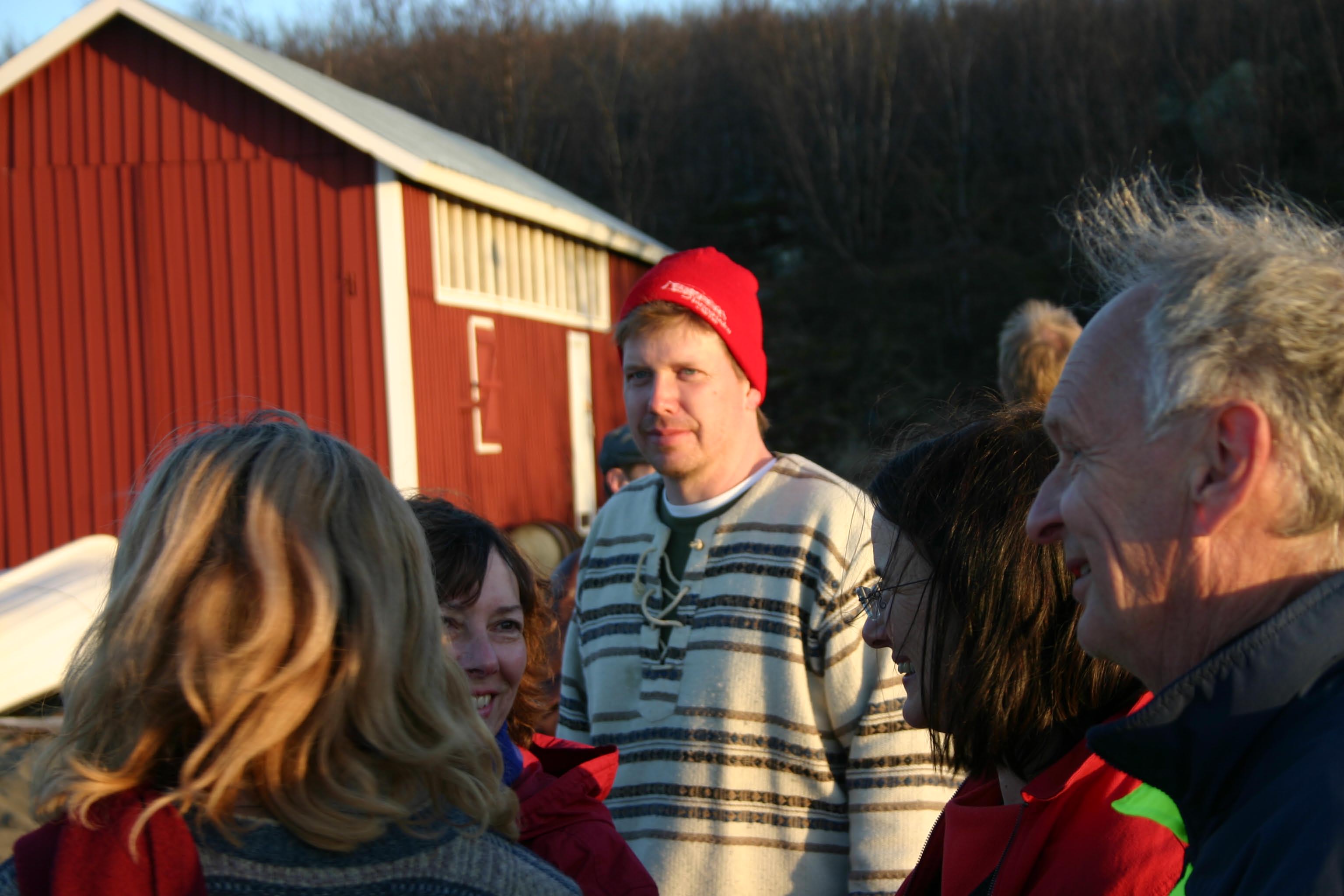 From an amazing workshop
in Abisko, May 2006
(Photo by Jan-Olov Johansson)
Coauthors
Marina Axelson-Fisk, Jonathan Bagley, Itai Benjamini, Jacob van den Berg, Graham Brightwell, Erik Broman, Mia Deijfen, Devdatt Dubhashi, Kimmo Eriksson, Hans-Otto Georgii, Timo Hirscher, Alexander Holroyd, Jenny Jonasson (formerly known as Jenny Andersson), Johan Jonasson, Jeff Kahn, Gil Kalai, Christof Külske, Marie-Colette van Lieshout, Torgny Lindvall, Russell Lyons, Christian Maes, Gabriele Mambrini, Marianne Månsson, Ronald Meester, Péter Mester, Jesper Møller, Elchanan Mossel, Karin Nelander, Lorenzo Orecchia, Alessandro Panconesi, Robin Pemantle, Yuval Peres, Chiara Petrioli, Jeff Rosenthal, Roberto Schonmann, Oded Schramm, Mauro Sozio, Jeff Steif, Tatyana Turova, Andrea Vitaletti, Johan Wästlund, Peter Winkler.

Erdös number: 2.
Graduate students
Karin Nelander. Ph.D. thesis 1998, Contributions to Percolation Theory and Exact Sampling.
Kajsa Larson (formerly known as Kajsa Fröjd), Licentiate thesis 1999, Perfect Simulation of Some Spatial Point Processes. Later, without my supervision, she went on to complete her Ph.D. thesis On Perfect Simulation and EM Estimation (2010).
Mia Deijfen. Ph.D. thesis 2003, Stochastic Models for Spatial Growth and Competition.
Per Hallberg. Ph.D. thesis 2004, Gibbs Measures and Phase Transitions in Potts and Beach Models.
Fredrik Lundin, Ph.D. thesis 2006, Case Studies in Omniparametric Simulation.
Oskar Sandberg, Ph.D. thesis 2007, The Structure and Dynamics of Navigable Networks.
Daniel Ahlberg, Ph.D. thesis 2011, Asymptotics and Dynamics in First-Passage and Continuum Percolation.
Oscar Hammar. Ph.D. thesis 2011, Percolation: Inference and Applications in Hydrology.
Some of my other professional activities
Math links
Some institutes and departments:
Other links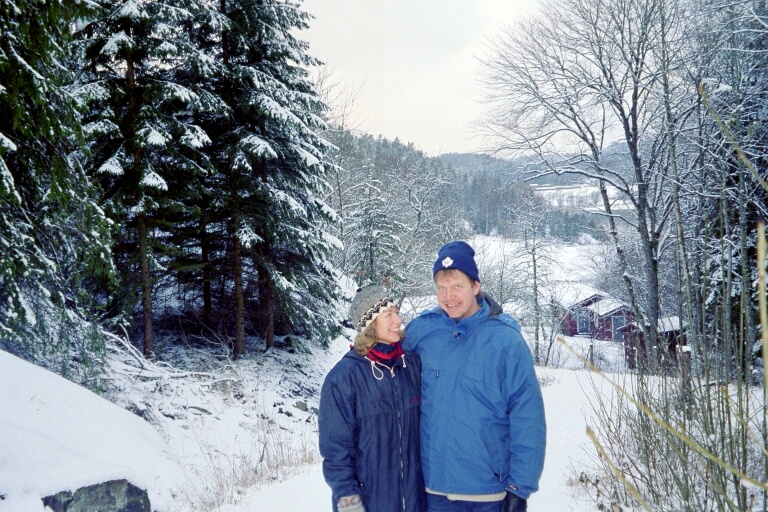 Marita and myself
(Photo by Marita)
Family
Old stuff
During 2008-2012 I was chairman of the board of NCM (Nationellt Centrum för Matematikutbildning).
Gradute course on Percolation Theory, January-March 2012.
During 2005-2009 I was coordinator of graduate studies in mathematical statistics, Chalmers and Göteborg University, but as of March 1, 2009, this position is taken over by Tommy Norberg.
Studiecirkel om Statistikens filosofi och historia, april-maj 2008.
GMMC-symposium om Samhälle och sociala dilemman: spelteoretisk och annan matematisk modellering, Chalmers, 22-23 maj 2008.
I was chairman of the Svenska matematikersamfundet 2005-2007.
Svenska matematikersamfundets årsmöte i Lund, 1-2 juni 2007.
Svenska matematikersamfundets utbildningsdagar i Stockholm, 25-26 janari 2007.
Svenska matematikersamfundets höstmöte i Uppsala, 1-2 december 2006.
Applications for a 4-year position as assistant professor (forskarassistent) of discrete probability and spatial random processes! Deadline for applications was on September 12, 2006.
Svenska matematikersamfundets årsmöte i Stockholm, 9-10 juni 2006.
I samband med Nobelfesten den 10 december 2005, deltog jag i ett radiosamtal som går att hitta här. Och här utvecklar jag mina synpunkter en smula ytterligare.
Svenska matematikersamfundets höstmöte i Karlstad, 25-26 november 2005.
Svenska matematikersamfundets årsmöte, Göteborg, 3-4 juni 2005.
Doktorandkurs om Markovkedjor, september-oktober 2004.
Workshop on Stochastic-geometric and combinatorial ideas in statistical mechanics, Göteborg, June 21-25, 2004.
Svenska matematikersamfundets höstmöte, Göteborg, 14-15 november 2003.
Graduate course on Large Deviations, February-May 2003.
Workshop on Probability, Trees, and Genetics, Chalmers, Göteborg, May 22-23, 2003.
Course on RANDOMIZED ALGORITHMS, March-May 2002.
19th Nordic Conference on Mathematical Statistics, Stockholm, June 9-13, 2002.
Workshop on Discrete Probability at EURANDOM, Eindhoven, June 17-20, 2002.
Mini-symposium on percolation theory, Göteborg, November 8, 2001.
Concentrated lecture series on Convergence rates for Markov chains, Göteborg, October 24-26, 2001.
Symposium on PROBABILITY and ALGORITHMS, August 2001.
Lecture series on COUPLINGS: OLD AND NEW IDEAS, March-May 2001.
Complexity for probabilists, January-March, 2000.
Some nice photos from the winter conference in Hemavan, 1999.
Sannolikhetsteorins grunder, januari-mars 1999.
A photo from the 1997 Göteborg percolation conference.
---

DISCLAIMER: This is a personal www page. Opinions expressed here do not represent the official views of Chalmers University of Technology. See the Chalmers www policy (in Swedish).


---
Last modified: Thu Nov 27 09:30:03 MET 2003